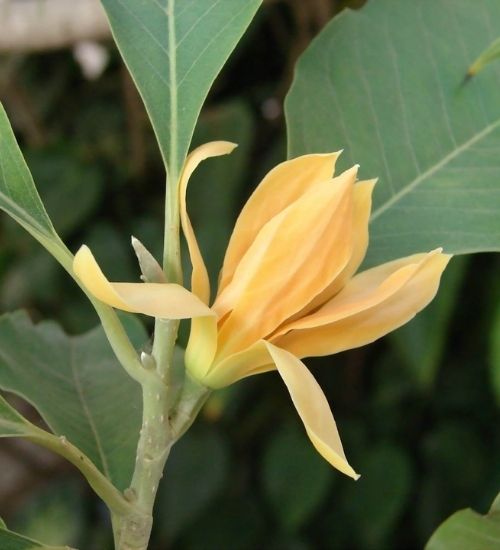 Shenbagam Tree is a free flowering tree, up to 30 – 50 m tall, and 183 – 190 cm diameter. Trunk is straight and columnar with smooth grey dark. Crown is cylindrical or conical. Leaf is elliptic or narrowly ovate (10 – 35 cm long by 4 – 11 cm wide), spirally arranged and slightly hairy on the underside. Leaf tip is short while leaf base is cuneate to rounded. There are 14 – 23 pairs of secondary veins which can be seen more visibly on the underside of the leaf. Petiole 1.5-3.5 (4) cm long. Stipules (up to 6.5 cm long) is hairy and attached to petiole for at least 0.7 – 3.9 cm long, leaving a ring-like stipular scar on the branches when it fallen.
We can deliver to your door step, anywhere you live.
Also available for bulk purchases please contact .
Gift an Shenbagam Tree for any occasion.
Shop from convenience of your home.
Green Orchid Chennai City Garden Center
Chennai leading supplier of Shenbagam tree, Tambaram stress relieve plants, Velachery indoor plants, Medavakam oxygen generator, Gowrivakkam plants for sale, Perumbakam indoor plants, Rajakilpakam, CampRoad, Selaiyur, Chitlapakkam, Madipakkam, Kovilambakkam, keelkattalai, Santhosapuram, Vengaivasal,  Pallikaranai whole sale and retail supply and sales. City – Nungambakam, Kotturpuram, Alwarpet, Guindy, Ashok Nagar, KK Nagar, Royapetah, Kodambakam, T nagar, Saidapet, Adyar, Thiruvanmayur, Sholinganallur.
Green Orchid Mahindra City Nursery
Chengelpatu leading supplier of Shenbagam tree, Paranur stress relieve plants, Guduvanchery indoor plants, Oragadam oxygen generator, Maraimalai Nagar plants for sale, Singaperumal Kovil , Potheri, SRM University, indoor plants,  whole sale and retail supply and sales.