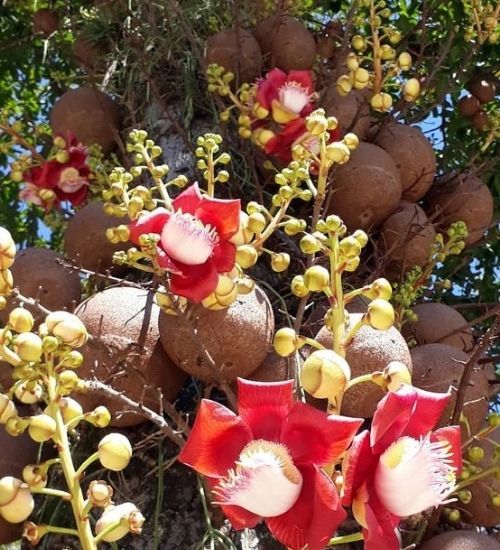 Nagalingam Tree or Cannon Ball Tree is a medium-sized tree, usually up to 25m tall under cultivation. Up to 0.8m across, appearing more massive due to dense tangle of long dangling branchlets (up to 3m long) that emerge and cover lower trunk, especially in older trees. Bark greyish-brown, fissured. Leaves smooth to slightly velvety with serrate and somewhat margins, simple, arranged spirally at ends of branches. Species is semi-deciduous, shedding its leaves around once to twice a year, usually in response to dry weather.
We can deliver to your door step, anywhere you live.
Also available for bulk purchases please contact .
Gift an Nagalingam Tree for any occasion.
Shop from convenience of your home.
Green Orchid Chennai City Garden Center
Chennai leading supplier of Nagalingam tree, Tambaram stress relieve plants, Velachery indoor plants, Medavakam oxygen generator, Gowrivakkam plants for sale, Perumbakam indoor plants, Rajakilpakam, CampRoad, Selaiyur, Chitlapakkam, Madipakkam, Kovilambakkam, keelkattalai, Santhosapuram, Vengaivasal,  Pallikaranai whole sale and retail supply and sales. City – Nungambakam, Kotturpuram, Alwarpet, Guindy, Ashok Nagar, KK Nagar, Royapetah, Kodambakam, T nagar, Saidapet, Adyar, Thiruvanmayur, Sholinganallur.
Green Orchid Mahindra City Nursery
Chengelpatu leading supplier of Nagalingam tree, Paranur stress relieve plants, Guduvanchery indoor plants, Oragadam oxygen generator, Maraimalai Nagar plants for sale, Singaperumal Kovil , Potheri, SRM University, indoor plants,  whole sale and retail supply and sales.